137 Union Street
In 2018, WHALE completed the restoration of 137 Union Street, a 10,000 square-foot development that will foster New Bedford's creative economy. This formerly abandoned block has been transformed into a collaborative retail, living and arts space that includes a gallery, education and maker space in the heart of downtown's historic district. The Waterfront Historic Area League (WHALE), as owner and developer, collaborated with architect studio2sustain and project partners. The initiative began in Spring 2016, and the full restoration has opened as of Spring 2018.
137 Union Street is now the Co-Creative Center, a mixed-use development featuring an art gallery, education and meeting space, and Co-Working space, in addition to loft-apartments, business and non-profit offices and storefronts. To see more information about the Co-Creative Center's events, memberships, and rental opportunities, please visit the website at https://www.cocreativenb.org/.
The mutual goals for the project include:
The historic restoration and reuse of 137 Union St with a creative multi-use approach for space that includes more downtown housing
Building capacity for downtown's artists, creatives and organizations through community gallery, co-work space, retail opportunities and maker space.
Activating the streetscape at the storefront level for increase of people and activities within the overlap block of Seaport Cultural District, Historic District and TDI District
Increase the access to hands-on arts education for low-income residents of New Bedford
PROJECT HISTORY
For over 10 years, the vacant "Barker's Lane Block" had left a hole in New Bedford's historic district. While the Gateway City is growing with revitalization efforts of downtown schools, tourism and retail shops, these abandoned buildings had remained untouched and wouldn't have lasted another winter without a new roof.
Though the city is named one of the "Top 10 Artistic Cities in America", a public hub for local creatives and an accessible maker space is still missing.  In New Bedford, many believe it is key to make sure the local arts renaissance remains accessible and affordable to all residents. This means granting emerging artists, creatives and makers their own downtown space and platform for diverse voices, along with their variety of mediums. The arts and music industry is evolving with technology and increasingly values the artist that creates work in multi-dimensional ways. Our local artists are already stepping in these directions of computer programming, protoyping and tech-driven arts, but few have access to the work and retail space needed to thrive in the industry.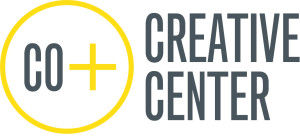 The mission of the Co-Creative Center is to establish a footprint for creative enterprise in the historic downtown to connect, support and celebrate artists and cultural entrepreneurship.
In 137 Union St: FIRST AND BASEMENT FLOOR
Co-Market Gallery:  Community galleries are designed to support local artisan efforts by promoting their work. In this storefront space, CO+ members will be able to sell their art and member-juried products while gaining retail experience.
Co-Make Space:  This is a community environment where artists and entrepreneurs can delve into the technology-driven "maker culture". There will be industry equipment for prototypes and computer facilities people in need of a "project incubator". Members will have access to the software and supplies needed for Digital Photography, Animation (with a green wall) and Graphic Design. Equipment Inventory is now under review and tiered memberships will be available.
Co-Learn Center: An education/conference space designed for the surrounding arts and culture community. Partners and public schools will be able to teach classes for community awareness or profit if the program aligns with the CO+ mission. An artisan, for example, can promote and host a class in their craft or meet with a prospective client. Class room size can accommodate 28 guests.
In 137 Union St.: SECOND FLOOR
Co-Work Space for Arts & Culture:  While many downtown offices are open at a high price, this space is dedicated to non-profits that support the arts, cultural and educational sectors in New Bedford at a subsidized rate. Long-term co-work space occupants will share office equipment and services in a collaborative environment.
In 137/141 Union St.: THIRD FLOORS
Downtown Housing: To respond to the need for more downtown residential space, four units on the upper floor are affordable artist workforce housing. They are mixed sizes at 2 one-bedrooms and 2 two-bedrooms.
In 141 Union St.: ABUTTING STOREFRONTS
Beauty Union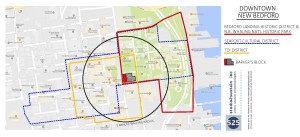 The CO+ is on the only block that is part of all three Downtown New Bedford districts.
CONTACT
Co-Creative Center
137 Union St.
New Bedford, MA 02740
774-425-4398
Dena@cocreativenb.org
The Project is Possible with the Generous Foundation Support Of..
Pioneers for Innovation
1772 Foundation
Ruth & Hope Atkinson (In Memoriam)
Bristol County Savings Bank
City of New Bedford HOME Funds
Garfield Foundation
Island Foundation
MassCultural Council Facilities Fund
MassDevelopment
National Trust for Historic Preservation
Santander Bank
Upstream Foundation
Arts Sustainer
BayCoast Bank
Rainy Day Fund
Local Arts Advocates
AHA! New Bedford
Anonymous
Gurdon Buck (in memoriam)
Carney Family Charitable Foundation
Christina Connelly
First Citizens' Federal Credit Union
Nancy Crosby
Paul & Donna Downey
June Goguen
Peter Hawes
Peter & Mary Kavanaugh
Peter Muise
New Bedford Art Museum/Artworks!
New Bedford Economic Development Council
Marcy Wintrub
Women's Fund of Southeastern MA
Creative Economy Partner
Anonymous
Arthur & Jean Bennett
JM Booth & Associates, Inc.
Teri Bernert & Paul Krause
Cooper Insurance
Gail Davidson & Tom Gidwitz
Wendy Nicholas & James Dorsey
Anne V.V. Webb
Urban Preservationists
Patronicity Campaign Supporters